Category Archives:
Trumpet Competition
Dejan Petrovic, the son and successor of the most famous Serbian trumpet player Mica Petrovic, was born in 1985 in the village of Duboko, near Uzice.
Dejan and his brother Darko belong to the fourth generation of trumpet players in their family of music manufacturers.The first one to start playing the trumpet was Dejan's great grandfather Tanasije and since then the skill has been passed down from father to son. Tanasije's successor was Danilo and then his son Mica, who deserves credit for the world fame of this instrument.
It is certain that he was a man ahead of his time – a visionary or an artist who knew how to use the God's gift and who could touch the soul of any man just by a simple sound of the trumpet. He gave good guidance to his sons Dejan and Darko, who showed interest for music from an early age.
At the age of six, Dejan played for the first time in front of an audience and, instead of spending his childhood playing with his friends; he spent time with his father and his orchestra, learning the secrets and the beauty of music until he recognized them within his very soul.
By the age of twelve he had already had his own, junior orchestra. Unfortunately, four years later he lost his father and, a great burden which was not easy to carry, fell upon him. Nevertheless, he did not surrender. Strong-minded, he followed his father's footsteps to the point when he had to go further and choose his own path. With a lot of hard work and efforts put in, with the help and support of his brother Darko and other members of the band, Dejan, a young trumpet player, won prestigious awards as well as hearts of the audience wherever he performed. Success followed success until finally he surpassed the achievements of his father at the competition in Guca in 2006, winning the "Master's Letter", the most prominent award at the competition. And so the twenty-year-old from the village of Duboko went down in history as the youngest Master of the Trumpet and as an artist with a potential to win the world in the same manner.
He always loved to "play" with music: to put together the disparate, to perform the unseen, to achieve the impossible; always following modern trends, but never losing touch with his origin, tradition and music that made him.
The name Dejan Petrovic became a synonym for traditional Serbian music everywhere in the world, often combined with modern elements and adjusted for everybody's ear.
He is not called The Ambassador of the Serbian Trumpet for no reason!
For fifteen years now, one could hear the name Dejan Petrovic Orchestra in the finals of every trumpet orchestra competition in the country, but also abroad. This is the best proof of the quality and a driving force to go further, to wish, to work and to achieve even more.
Dejan Petrovic Orchestra exists since 1996 and its founder and mentor Mica Petrovic, was a master trumpet player and a legend of the Serbian trumpet playing. A group of beardless boys, led by Dejan Petrovic, since their very first competition participation, have been winning one award after another and hasn't stopped yet on their way to the top. Always leaving their audience open-mouthed in amazement and exhilaration, they let everyone know that, behind this image of cute little boys, lies tremendous work and dedication to their call. The hearts of the audience were captured.
It took them five years to reach their maturity, to stop with the junior orchestra competitions and get to grips with much older and more experienced rivals. As it happens, quality prevailed. Unique and matchless, of a distinguished sound and image, Dejan Petrovic Orchestra stands firmly on the top of the Serbian trumpet scene. Having won everything there was to win, in 2010 Dejan and his orchestra decided to stop competing at the Guca festival, to give space to new, young orchestras and to move on.
It is no surprise that many influential people in the music and film industry have chosen this orchestra as their co-workers, Emir Kusturica being one of the most important one, who they have been working with for seven years now. They have made music for a number of his films and not a single Kustendorf festival took place without Dejan and his orchestra.
Ovogodišnji 56 Dragačevski sabor trubača biće održan od 10. do 14. avgusta, a uz mnoge novine uvedena je i takmičarska kategorija "Šampion Guče" gde će se nadmetati najbolji trubači i orkestri nosioci prestižnih priznanja sa ove trubačke manifestacije.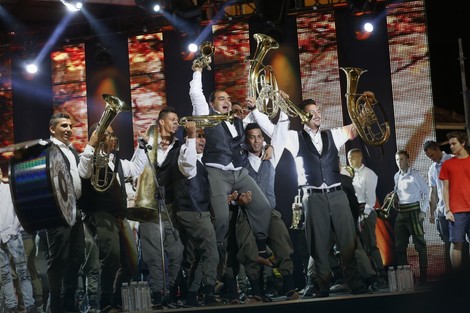 Nagrada (novčana) za pobednika u ovom nadmetanju simboličnog je naziva"Milion za šampiona" . Učesnici će ujedno dobiti odobrenje da mogu predstavljati Guču u zemlji i inostranstvu, a pobednici Srbiju u svetu.
"Morali smo da osmislimo kako naše najbolje trubače da vratimo u Guču i na takmičenje a istovremeno da damo šansu mlađima da napreduju. Svako ko osvoji, u tradiocionalnom takmičenju, zvanje majstora trube imao bi i dalje zabranu da se takmiči za isto zvanje, a na ovaj način stiče pravo da se nadmeće, u neku ruku kao profesionalac, sa svojim kolegama majstorima trube za najviše zvanje Guče "Šampion Guče", i to bez ograničenja, što znači da može biti višestruki šampion Guče ukoliko bude pobeđivao i narednih godina", kaže Slobodan Jolović, predsednik Saborskog odbora.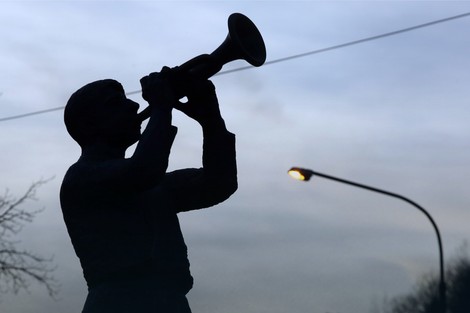 Na sednici Saborskog odbora donet jedinstveni operativni plan organizacije ove manifestacijeprema kome 56. Dragačevski sabor trubača, ove godine traje pet dana (tri trubačka i dva poklon dana) što će povećati broj domaćih i stranih gostiju u odnosu na protekle 3-4 godine za najmanje 100 hiljada. Četvrtak, petak i subotu (11. do 13. avgusta) biće trubački dani, a sreda i nedelja (10. i 14.avgust) poklon dani gostima i ugostiteljima, u kojima će biti priređeni koncerti zabavne i narodne mizike, a u ugostiteljskim objektima i na javnim površinama dozvoljena svaka vrsta muzike, za razliku od tri trubačka dana kada se u Guči jedino može emitovati i čuti samo truba.
Kao mogući koncerti u Guči, pominju se koncert Svetlane Cece Ražnjatović u sredu, a organizator bi u nedelju, 14. avgusta,trubači voleo u Guči da vidi komšije iz Čačka, Boru Čorbu i Miroslava Ilića.
Po mišljenju organizatora ovogodišnji sabor će biti bolji po mnogo čemu od prethodnih. Vlada Republike Srbije je obezbedila 30 miliona za završetak Doma trubača u Guči, čime će biti rešen smeštaj učesnika finalnog takmičenja, pojačaće se i unaprediti programski sadržaji i marketing sabora, podići na viši nivo komunalna higijena, unaprediti saborska infrastruktura i uvesti red u organizaciji.
Source: www.blic.rs